#1: From Introvert Lurker to Sold No-Code Project in 6 months
The No-Code Exit story of Katt and No-Code Guru
Hello,
Welcome to the first story of No-Code Exits.

After the announcement yesterday, I woke up today to 240 subscribers. That's incredible. I'm so pumped to start sharing these No-Code Exit stories with you.

Because it all went so quickly, I will start with my story today. After that, enough of me in the spotlight 😅. I contacted some amazing No-Code makers who sold their projects, and I will share their stories in the coming weeks.
Subscribe to not miss new inspiring stories about No-Code makers who sold their projects.

Let's dive into the story of how I made and sold my No-Code Project.
Katt, who are you?
I'm Katrien aka Katt. I live in Belgium with my husband and 2 kids (1,5 years and 4 years old). I worked for 10 years at a big European Tourism company as project manager for digital customer experience projects.

Since June I'm on parental leave to be there more for my kids, but I also like to call it my No-Code Sabbatical (because it sounds badass 🤘). My goal during these 8 months is to experiment with no-code, have fun and hopefully quit my job.


Since 2016 I have been a lurker on Product Hunt, Indie Hackers and Twitter. I always had the dream to create my own product. I listened to start-up podcasts, I read the classic business books and read everything on forums. But I never engaged or started building something because I couldn't code.

Then in 2021 I learned about No-Code. I started using Softr to build some small solutions at work and I absolutely loved it. I decided to come out of the introvert lurker shadows and joined a No-Code Bootcamp.

Next cohort of the No Code Bootcamp is starting 7th of November. It transformed my life, so I can't recommend this bootcamp enough. #donewithfangirling
Tell us about your No-Code project that got acquired
During this No-Code Bootcamp, the goal was to launch a Minimum Viable Product.

In this group, on forums, on Twitter I noticed one question that kept returning 'Which no-code tool should I use to build my project?' The No-Code Tool landscape is pretty complex if you get started, so I decided to build a chatbot that could guide people that were new to No-Code. No-Code Guru was born. I wanted to keep it accessible to anyone so it was free and you didn't have to create an account or leave your emailadress (stupid? 😅)


Which No-Code tools did you use to build it?
All without a single line of code. I wrote a detailed guide about how you can make a similar chatbot, DM me if you are interested.

Nocode-guru.co
is built completely with No-Code. Read on if you want to learn which tools were used. 1/8 👇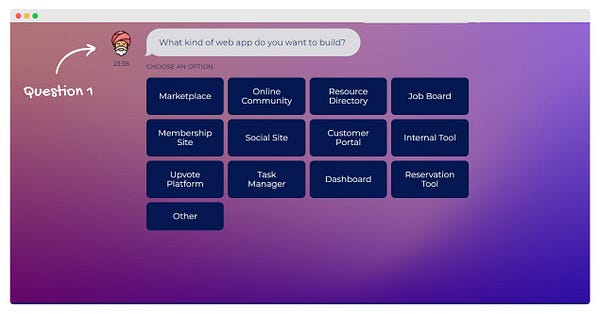 nocode-guru.co
No-Code Guru | A wise tool advisor for beginner No-Code makers
No-Code Guru is a wise chatbot that will help you find the right No-Code tool to build your idea.


How did you launch and grow your product?
In April I launched No-Code Guru on Product Hunt. That was a pretty big milestone for me because I had been admiring everything on this website for years. It was also exciting because I didn't have a big audience (around 200 followers) and what would people care about my tiny project?

The response was amazing. I ended in Top 10, connected with many makers and received a lot of compliments and valuable feedback.

In April and May I kept improving and promoting No-Code Guru. Nothing fancy:
I listed it in multiple directories

I got featured in some newsletters

Did some interviews about it (Softr, Makerpad, …)

Promoted it on Reddit and IndieHackers

And build in public on Twitter


Why and how did you sell it?
After listening to a podcast interview with Andrew (founder of Micro Acquire) I got a new product idea (yes, Shiny Objects is my middle name). I wanted to make a Notion Dashboard that made it easier to transfer vital information from buyer to seller. For that I first needed to do some research so I listed No-Code Guru on MicroAcquire and Tiny Acquisitions. I did my research and left it listed because I thought "you never know".

Time Frame
Building in the evenings: February - March
Promotion: April - May
Listed for sale: May
Acquisition offer: August

In the listing I focused on the opportunities that were still possible for No Code Guru and I defined a price by calculating the time I spent on it (4-figures). I received some information requests here and there and then forgot about it… A few months later I got contacted via Twitter and after thinking it through we sealed the deal on MicroAcquire.

It was not an easy decision to sell because it was my first project.
Here are the + and - I listed for myself.

Pro
Focussed on other new projects so no time to continue working on it

Not motivated to do marketing because it leads to nothing

Doesn't bring in money and Landbot subscription is not cheap

Landbot has its limitations, not 200% happy with possibilities

Better to sell now to a good person who has nice plans, then let it quietly 'die'

Good for my maker cred :)
Con
How can I sell my first No-Code Side Project Baby???

Maybe I should try first to block another month and continue working on it to see where it leads / try to monetize.

Offer too good to be true for a no code product with 0 revenue?
Can you share some metrics from the time you listed it for sale?
Around 1500 visitors per month

Revenue: 0,00

Email list: Around 300 (you only need to leave an email when you want to access the full database)
On MicroAcquire it looked like this 😅
Why did the buyer want to acquire your project?
It's a ready to use product with 'cool' branding

The buyer can (after a training from me) update and manage everything themselves

Still a lot of opportunities to take it to the next level



What kind of advice would you like to share with someone who wants to get started with No-Code?
Join a community with like-minded peers for some accountability and support.

Start with building a tiny project that solves a problem

Build in Public on Twitter
What kind of advice would you like to share with someone who wants to sell their No-Code project?
What worked for No Code Guru:
Focus in the listing on opportunities that can be tackled

Create a memorable 'brand'

Deliver something that is ready to use

Potential to launch an improved version very fast
Where can we go to learn more about you and your projects?
I hope my story can inspire other introvert lurkers to step out of the shadows. It's not a life-changing acquisition, but it gives me some extra runway to go for my dream. And it's cool to show that you can build valuable things, even if you can't code.
As this is the first story, please let me know your feedback. Too long? Too short? Still questions? Important information missing? My English is unreadable? I will listen to everything and do my very best to improve for the next issues (some very interesting stories coming up👀).
---
Thanks for reading No-Code Exits! Subscribe for free to receive new posts and support my work.
---